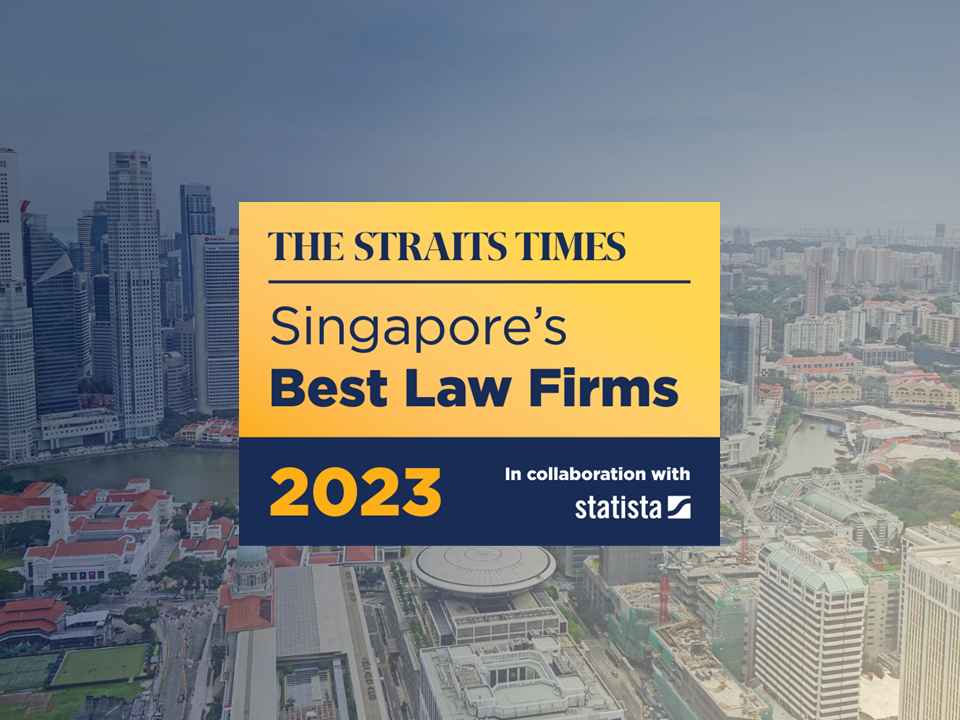 We've been blessed in being recognized for the third year running in the The Straits Times' Singapore's Best Law Firms 2023 list.
This ranks Yuen Law among Singapore's 100 most highly-regarded law firms in 18 practice areas, as recommended by legal professionals.
Yuen Law has received four-star ratings in five categories:
Commercial Law
Conveyancing
Family Law
Inheritance & Succession
Mergers & Acquisitions
The Best Law Firms 2023 were selected and rated based on more than 12,000 recommendations from a total of 6,178 fellow legal professionals and clients / in-house counsel in a survey by independent market research company Statista.
We're gratified that our industrious lawyers and support team's commitment to serving our clients well has been recognised, and we'll strive to do better.
Special thanks to our peers and clients who nominated us and evaluated us favourably!
On Yuen Law's recognition by The Straits Times this year, Managing Director Samuel Yuen said: "All glory to God! From Yuen Law's inception 10 years ago as a one-man machine, I've had in my heart the vision of a full-suite law firm that serves clients with empathy and tenacity, and a keen discernment in using the law to help clients to their best interests."
"Having our firm recognized in the good company of the best of Singapore's legal practices is affirming and encouraging, for myself and, I'm sure, the entire team who are the bedrock of our goals and aspirations."
Samuel heads Yuen Law's Corporate Practice Group, which provides legal advice and services running the gamut from company incorporation and corporate governance, to intellectual property rights protection, fund-raising and M&A.
The Corporate team also has deep experience with regard to financial services compliance, including digital payment services licensing, capital markets licensing, and regulatory sandbox application.
Lim Fung Peen, a Director at Yuen Law who leads Yuen Law's Family & Private Wealth Practice , says: "We are very grateful to our clients for their recognition of our work for them. We are honoured to receive this award and to also have the endorsement of other practitioners. Moving forward, this encourages us to continue practicing in a collaborative style in line with the Court's emphasis on therapeutic justice."
Yuen Law's Family & Private Wealth Practice is trusted by clients for legal assistance in matters including estate and property trust planning, family business succession, probate, and the sale and purchase of real estate, or conveyancing.
This highly reviewed team also represents clients in various family and matrimonial matters, including divorce , annulments, disputes over maintenance or custody, and adoption matters.