Experienced Litigation Lawyers in Singapore
At Yuen Law, our litigation team of lawyers pride ourselves as being practical problem solvers for our clients, and creatively approach matters and look at each dispute from fresh angles. However, there will be situations where litigation is the only appropriate dispute resolution option.
Amos Cai
and
Denise Teo
helms our litigation team, their extensive experience in corporate disputes naturally leads to our ability to handle complex commercial disputes. Our litigation lawyers have significant experience at all levels of the Singapore courts, and because our clients operate internationally, so do we, performing all roles from overseas enforcement to litigating across multiple jurisdictions. We think of ourselves firstly as business people, and understand the challenges of running a global business. We know our clients as people, intuit their specific interests, and provide litigation options so they can choose the best ones moving forward. We do this for every client and every case.
Commercial & Civil Litigation
You can come to us regardless of your industry, whether as an individual or as an organization, and at any stage of the dispute. We have represented and litigated for the following types of cases:
Shareholder & Partnership
Breach of Fiduciary Duties, and Disputes on Corporate Governance Issues
Contractual Disputes
M&A Disputes
Fraud & Asset Tracing
Breach of Trust
Debt Recovery
Employment Disputes
Negligence Claims
Medical negligence
Personal injuries
Defamation and libel
Injunctions
Property-related disputes
Cost-Effective Alternative Dispute Resolution in Singapore
Mediation & Negotiation
Most clients recognise the financial and human costs of protracted litigation, and if there are other ways we can get a satisfactory result, we would always explore them. Yuen Law has extensive experience in mediation and negotiation. We conduct cost-benefit-risk analyses of going for mediation and negotiation vis-a-vis litigation, and would only choose mediation or negotiation if we're sure it's most advantageous for you to do so.
Arbitration
Many local and cross-border commercial contracts today specify arbitration as the primary mechanism for dispute resolution, especially in the
construction industries
. Yuen Law has helped many clients in complex international arbitrations, as well as in local arbitral tribunals at all levels. We are familiar with the UNCITRAL,
ICC
and
SIAC arbitration rules
. Our litigation team of lawyers guide clients through all phases of the arbitration process, from crafting dispute resolution clauses to local and overseas enforcement of arbitral awards.
Leading Business Litigation Law Firm In Singapore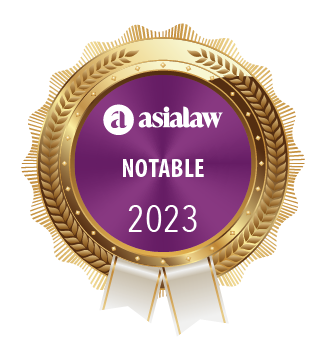 Yuen Law has been recognised as a Notable firm in the area of litigation and disputes resolution for commercial and transaction work in the 2023
Benchmark Litigation Asia-Pacific
and
Asialaw
Rankings. "
They are very knowledgeable in their profession, and they give very relevant and practical advice to aid us in our decision-making."
Feedback from Asialaw Client Survey
"Amos has in-depth experience with regards to disputes in the construction industry and has consistently given practical and realistic advice with regards to actions and their outcomes."
Feedback from Asialaw Client Survey
"They offer practical and realistic advice with regards to courses of action and possible outcomes. They provide detailed legal documentation, closely follow up on matters relating to our case, have dedicated staff assigned to our case, and the assigned partner is experienced in dealing with construction industry cases."
– Construction Client Feedback from Asialaw Client Survey
---
Seek Expert Assistance with our Efficient and Skilled Civil Litigation Lawyers Today
When it comes to civil litigation or commercial disputes, our accomplished team, led by Directors
Amos Cai
and
Denise Teo
, is ready to support you in attaining the optimal outcome. We bring a wealth of experience to the table and are committed to providing top-notch legal guidance. Please
contact us
to schedule an appointment.
---
Related reading ON LITIGATION ARTICLES