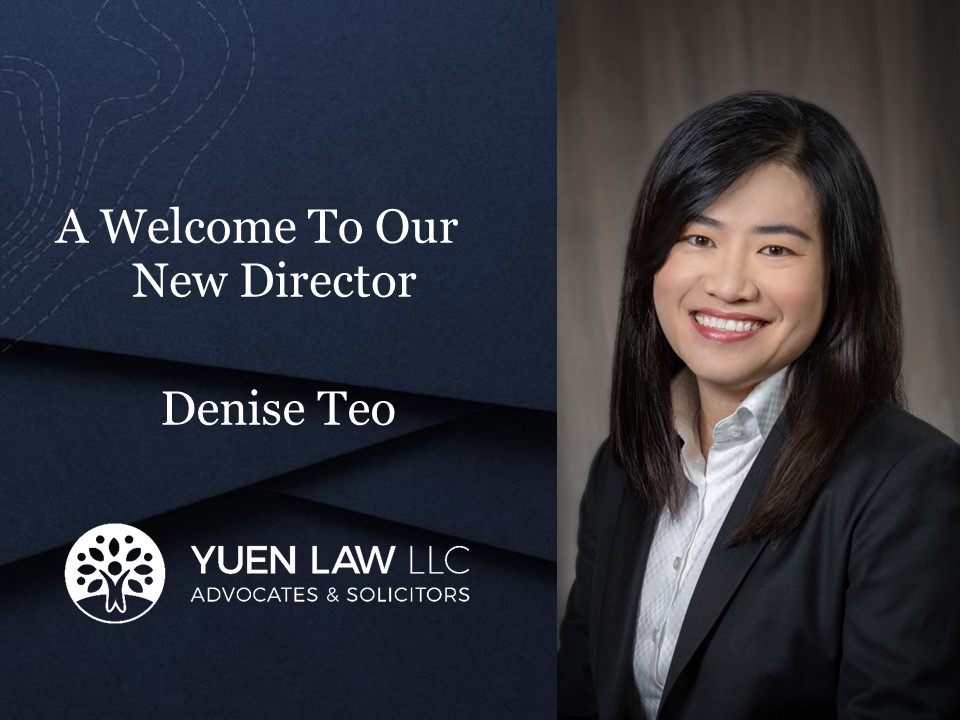 Yuen Law is pleased to announce the appointment of Denise Teo as a Director in our Disputes Resolution Practice Group in May 2023.
With a wealth of experience in advising on civil disputes, criminal matters and investigations, Denise brings extensive expertise to our team having represented multinational corporations (MNCs), listed companies, and unincorporated associations across diverse industries such as insurance, construction, shipping, real estate, and food and beverage.
To clients, I am your voice. I will find the best words to convey your thoughts, your grievances, your disappointments, while guiding you towards a resolution that best addresses the challenges you face. For you, with you.

Denice Teo, Director, Disputes Resolution Practice Group, Yuen Law LLC
Leveraging her comprehensive experience in both civil and criminal cases, Denise is well-equipped to provide well-rounded and strategic advice to her clients, employing a multi-dimensional approach tailored to their unique circumstances.
Apart from her professional achievements, Denise is deeply passionate about shaping young minds and regularly teaches Advocacy to Part B students. She actively contributes as a valued member of the Law Society's Criminal Legal Aid Scheme (CLAS) and the Legal Aid Bureau (LAB), where she regularly undertakes pro bono work. Furthermore, Denise' expertise has earned her a position on the esteemed panel of counsel for the Legal Assistance Scheme for Capital Offences (LASCO).
"I am thrilled to have the opportunity to join Yuen Law and work alongside the talented professionals there," says Denise. "With our collective efforts and by upholding a strong commitment to delivering excellence, I firmly believe that we can create a substantial influence on both the legal field and the clients we diligently serve."
Managing Director Samuel Yuen says, "Denise brings with her a vast array of legal knowledge and experience to our team. We are thrilled to have her on board and look forward to working alongside her to offer our clients with the best possible legal assistance tailored to their specific requirements."