We are delighted to share that three of Yuen Law's principal lawyers have been recognised as Notable Practitioners, while our firm has earned a Recognised ranking for Corporate and M&A in the latest edition of asialaw 2023/2024.
Kevin Chua, Senior Director in our Corporate Practice Group and Team Lead for Regulatory and Securities, makes his debut in asialaw – Asia's authoritative guide to prominent law firms and attorneys. This is in recognition of his work in Corporate and M&A, as well as Regulatory matters.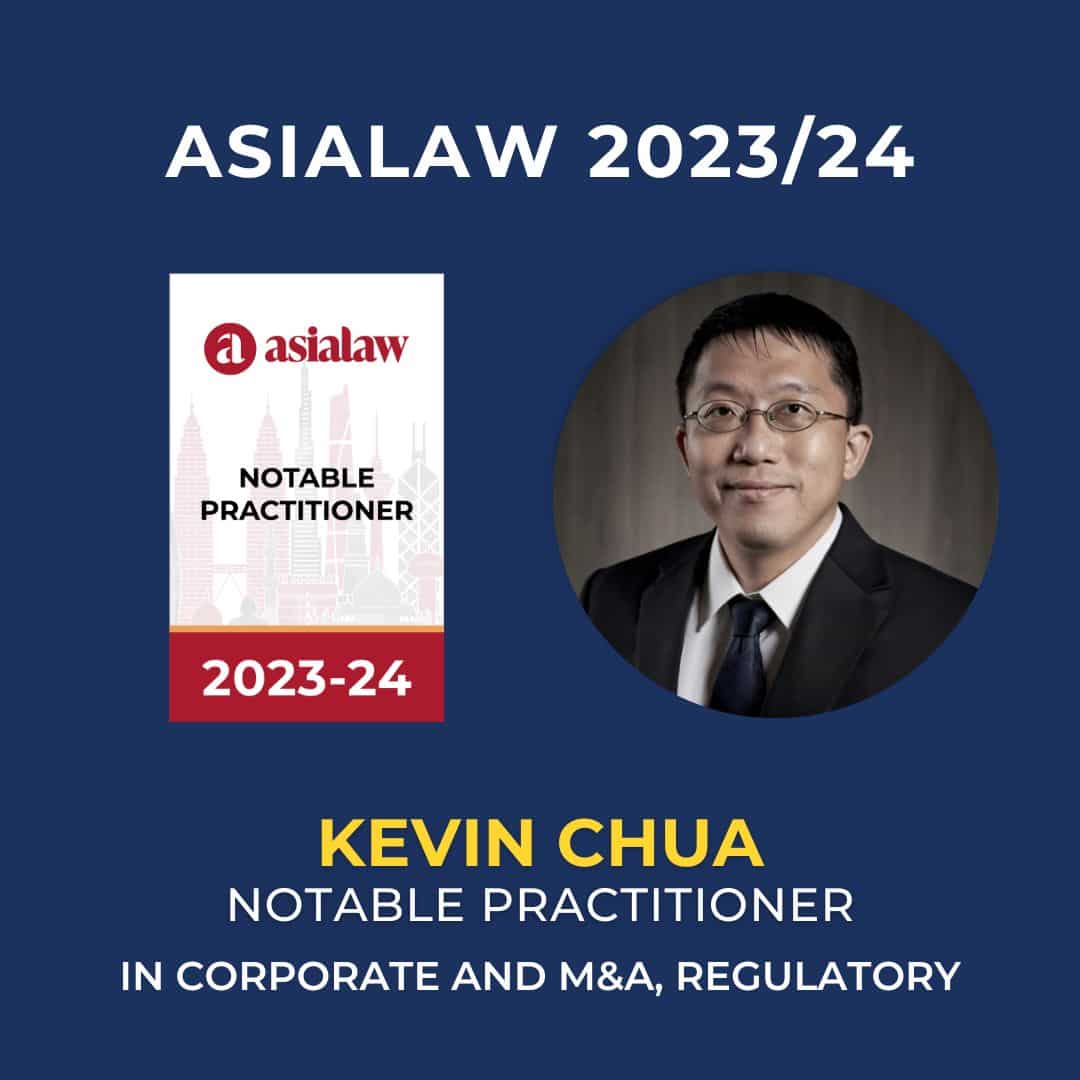 "I find great satisfaction in guiding clients through Singapore's complex legal landscape, especially in the domains of financial services regulation, fintech, digital payment tokens (DPTs), and corporate matters. Fintech and DPTs evolve rapidly compared to other, more traditional areas of the law, necessitating vigilant monitoring, and adaptative legislation and regulatory policies. Our Regulatory and Securities team's work in the fintech compliance space has been extremely rewarding and I am excited for Yuen Law to take on more meaningful ventures in the coming years."

– Kevin Chua
Senior Director
Corporate Practice Group
We also celebrate the successive Notable rankings of our two practice group heads:
Samuel Yuen, our Managing Director and Head of Corporate Practice Group, has been recognised for his work in the domains of Corporate and M&A, especially in the dynamic sectors of technology and telecommunications industry.
"In the vibrant legal landscape of Singapore's tech sector, navigating corporate law requires both precision and adaptability. I am proud of our team's work in mergers and acquisitions (M&As) this year, an area where Yuen Law has consistently excelled in. I am further heartened and grateful that our driving passion for excellence as legal practitioners and in achieving the best possible outcomes for our clients is recognised and valued."

– Samuel Yuen
Managing Director
Head of Corporate Practice Group
"I perceive litigation as a form of legal advocacy, where our dedication lies in delivering proficient and strategic legal remedies. As Singapore's economic landscape evolves, we observe an increasing level of complexity in cases pursuing claims – notably in complex civil and commercial disputes matters – necessitating vigorous legal representation, which I always strive to deliver."

– Amos Cai
Director
Head of Disputes Resolution Practice Group
Yuen Law is awarded Notable rankings for Disputes Resolution and Private Equity for the 2nd year running.
We are heartened by the recognition of our client-centric approach, as we strive for holistic excellence in the legal practice and empathetic, high-touch service.
Commendations from our clients, as noted by the asialaw research team, spotlighted our lawyers' knowledge, responsiveness, and dedication.
"We appreciate the team's responsiveness, expertise and reliability."

– Capital Markets client
"Efficient and responsive."

– Investment funds client
"Dedicated to clients, polite and professional."

– Insurance client
"Kevin is responsive, reliable and genial."

– Client Feedback, asialaw
"They have the courage to face the opponent."

– Disputes Resolution client
"Amos is knowledgeable and responsive. He has experience with derivative actions in the past."

– Client Feedback, asialaw
Among Yuen Law's cases that were considered by asialaw:
Represented Real Tech Fund in its participation as lead investor in the US$10 million Series A funding for VflowTech, a Singapore-based renewable energy startup.
Acted for Pine Venture Partners, a co-lead investor in the US$3.7 million Series A fundraising round for telemedicine veterinary startup ZumVet.
Advised an early-stage VC firm in a US$2.6 million pre-Series A funding round into a social e-commerce platform.
Successfully secured an award of over RM3 million in equitable compensation for our client Urs Eller, in a lawsuit concerning a breach of trust deed in relation to shares of a company.
As always, our thanks to God, our clients and our able and dedicated team for making this possible!