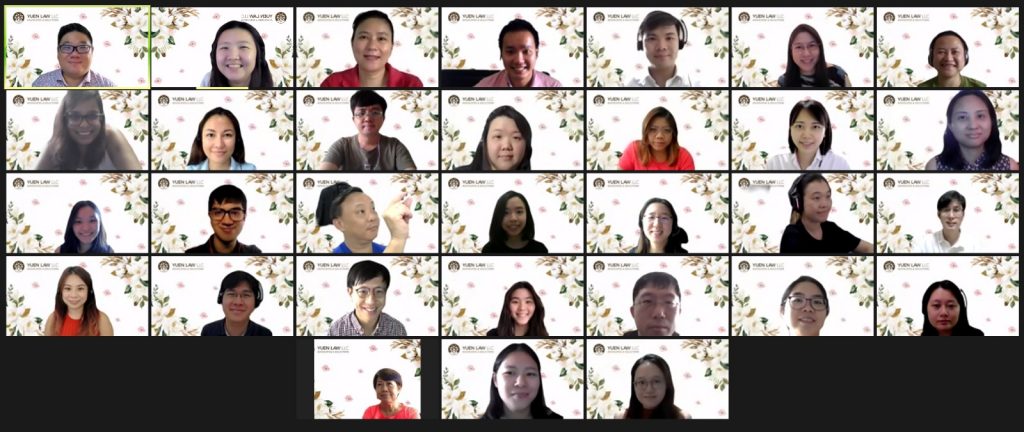 In almost a blink of an eye, the year is drawing to a close. While it was yet another year full of restrictions and cautionary measures, we're grateful to have spent 2021 with our loved ones, and in service to you!
Seasons Blessings
We wish you a season of blessings and joy, and a brighter New Year!
We give glory to God for another year of blessings, protection and provision. Our firm has grown steadily, and we are delighted to have been recognised once again in several prestigious legal rankings.
CHAMBERS AND PARTNERS – ASIA-PACIFIC LEGAL RANKING
For the second year running, Yuen Law received a nod from Chambers and Partners 2022 — the gold standard of international industry rankings.
Our firm was once again ranked favourably for our work in Startups & Emerging Companies, with our Managing Director Samuel Yuen also recognised as a leading lawyer in this category.
Each year, Chambers and Partners identifies and ranks the most outstanding law firms and lawyers in over 180 jurisdictions throughout the world.
The Chambers Asia-Pacific 2022 edition covers jurisdictions across the region, with in-depth analysis of 35 countries including Australia, China, India, Japan, South Korea and Singapore. This new guide features 3,350 legal department rankings and 5,653 lawyer rankings across more than 30 separate areas of law.
Department and individual rankings are decided following rigorous research and analysis, with significant weight given to client feedback. Researchers also speak to industry peers who have had dealings with the law firms being evaluated.
Factors assessed include:
Technical legal ability
Professional conduct
Client service
Commercial astuteness
Diligence
Commitment
Other qualities most valued by the client
SINGAPORE BEST LAW FIRMS BY THE STRAITS TIMES
Yuen Law was also named one of "Singapore's Best Law Firms 2022" by The Straits Times and Statista in November 2021, for the second year in a row. We were awarded in the fields of:
Company & Commercial
Conveyancing
Family
Inheritance & succession, Private Wealth Management
Yuen Law was also ranked as a Notable firm in the area of Corporate and M&A by asialaw Profiles 2022 in September 2021. This, too, was the second year that Yuen Law made this list.
We are extremely thankful for the recommendations that clients and our industry peers once again shared with the research teams. Our team has always strived for excellence in our work and to serve clients with empathy and integrity.
As we head into 2022, as always, it's onwards and upwards!
From us to you, a most Blessed Christmas and have a very Happy New Year!
Please note that our office will be closed on 24 December 2021 and 31 December 2021.