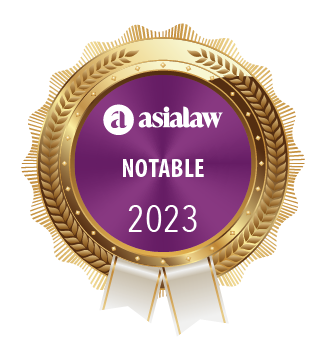 It gives us great pleasure to share that two of our Directors have earned their first Notable rankings in asialaw 2022/23, Asia's definitive guide to leading law firms and lawyers.
Samuel Yuen, our Managing Director and Head of Corporate Practice Group, was recognised for his work in Corporate and M&A.
Amos Cai, our Director and Head of Disputes Resolution Practice Group, was ranked for his work in Disputes Resolution.
We're also celebrating Yuen Law's Notable ranking by asialaw in the practice areas of Corporate and M&A for the third year running, and two new Notable hallmarks for our track record in Disputes Resolution and Private Equity.
Clients noted our lawyers' knowledge, professionalism, attention to detail and responsiveness in feedback shared with the asialaw evaluation team. We're gratified to know that our client-first approach is appreciated, as we pursue all-round excellence in our legal practice.
Reflections from Our Lawyers
I am grateful for God's loving kindness and provision, that in spite of our relative lack of size, we have been able to consistently punch above our weight as we further our clients' interests. I am grateful to the team, for their steadfastness and desire to pursue excellence in their work. The ranking validates the hard work our teammates have put in over the past year and is a tangible affirmation of the quality of our work.

– Samuel Yuen, Managing Director
and Head of Corporate Practice Group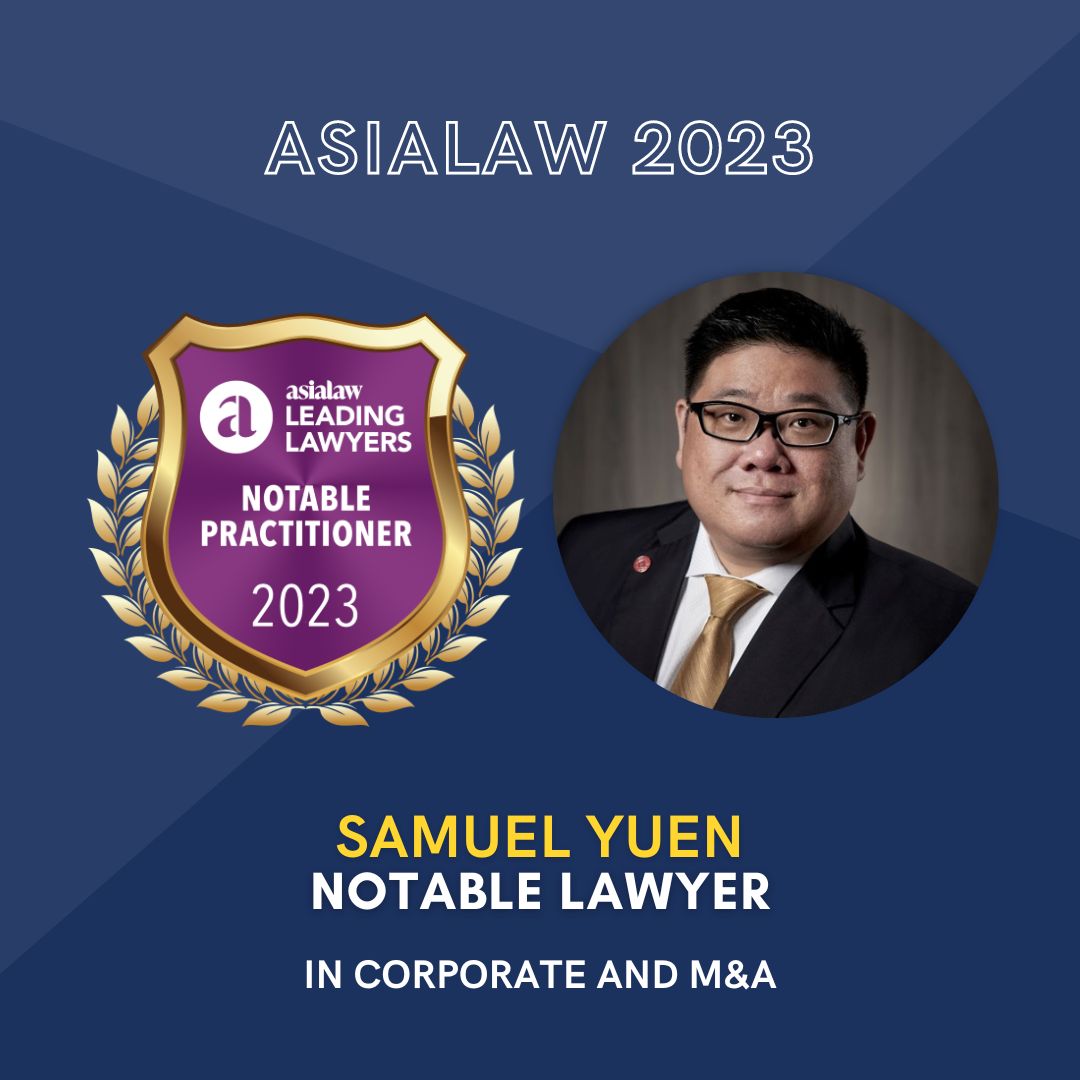 One of my favourite Shakespearean plays is Hamlet, and one quote in that play – Act IV Scene 5 – in particular sums up how I feel about our corporate team: 'We know what we are, but know not what we may be'. I like to think that the quote is about our potential as well. Our lawyers are so much better and can do so much more than they sometimes realise, and this award fortifies my belief in our people.

– Kevin Chua, Senior Director,
Corporate Practice Group
I am grateful to have supportive Directors and seniors who have taken the time to provide valuable advice and guidance to younger lawyers like myself. We work to bring value to our clients and this ranking recognises the work that our team does to make that happen.

– Valerie Ho, Associate,
Corporate Practice Group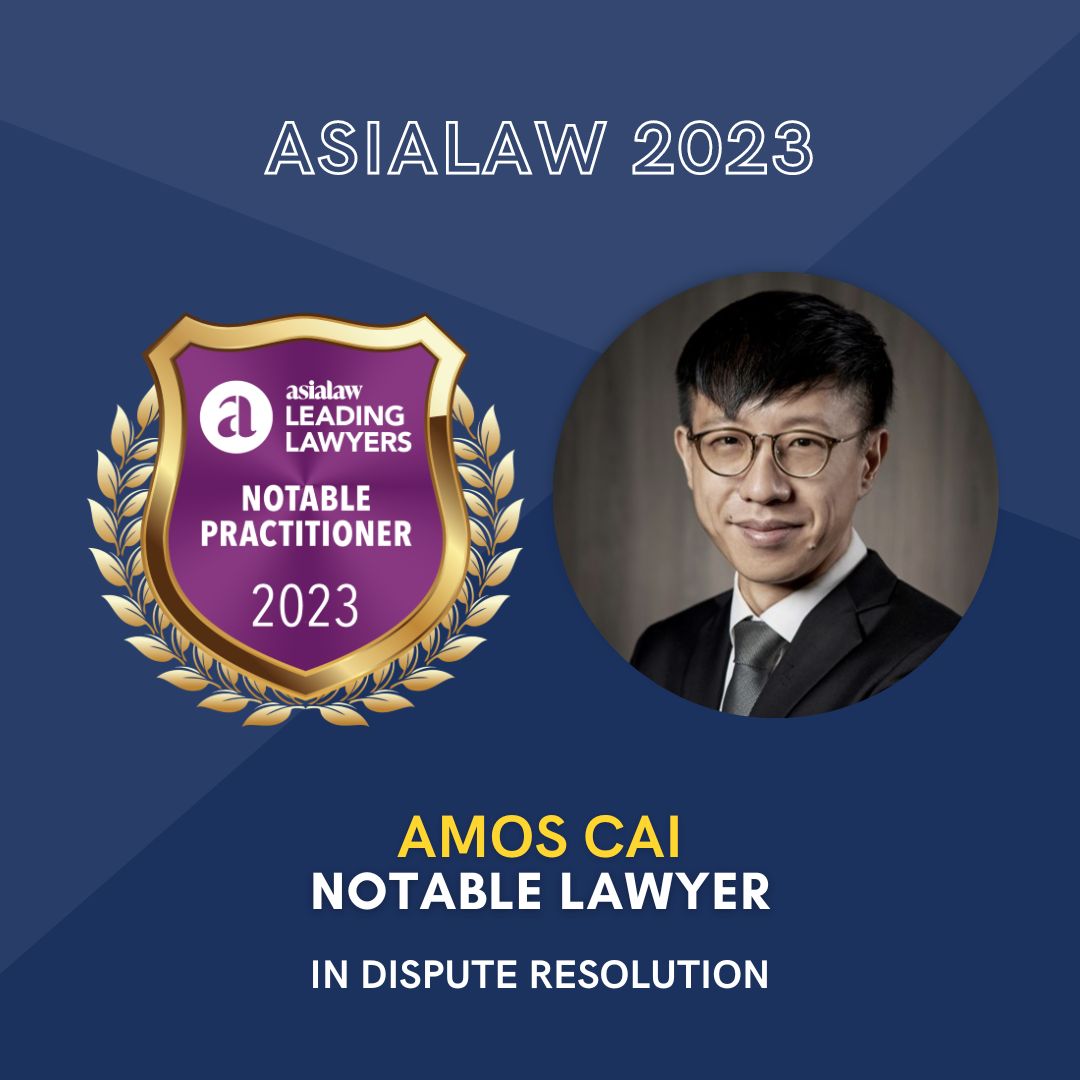 Being ranked by asialaw for Dispute Resolution is a recognition that we are doing good work, and we will strive to continue to do so. Yuen Law is handling several SIAC arbitration cases, and we seek to do more. I am grateful for a great team of lawyers and support staff through the years, and we're grateful for clients that trust and appreciate us. We continue to deal with the changing procedural landscape and strive to be cost-effective, fervent advocates for our clients.

– Amos Cai, Director,
Disputes Resolution Practice Group
I'm grateful to clients who have and continue put their trust in us. This ranking is a recognition of our efforts and we will continue to strive to advance clients' interests and put their best case forward.

– Keyun Tian, Associate
Disputes Resolution Practice Group