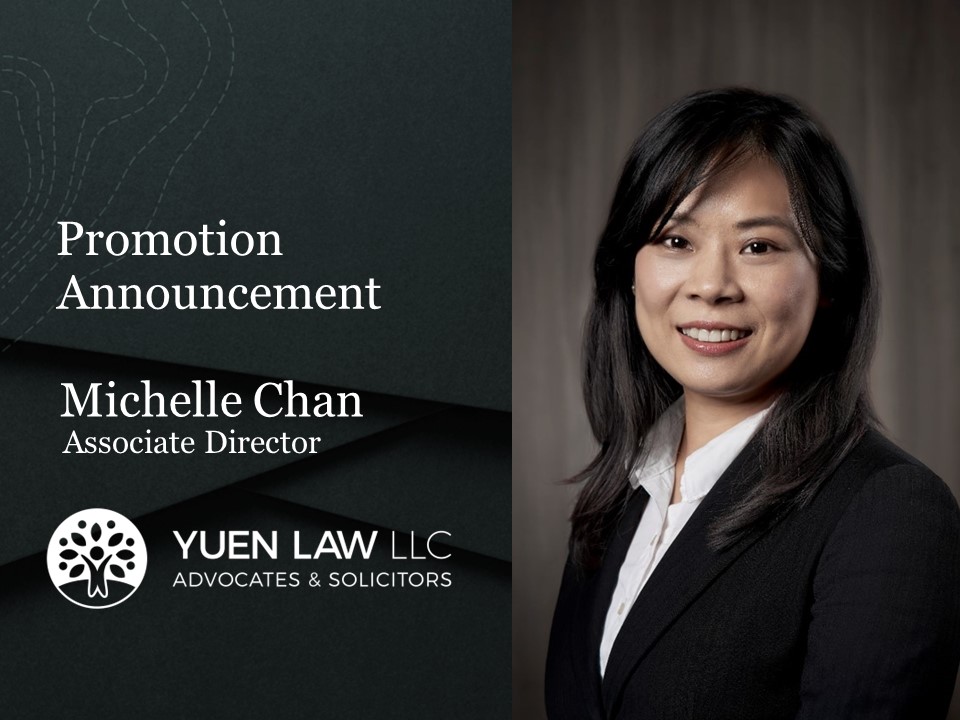 We are pleased to announce that Ms Michelle Chan has been promoted to Associate Director of Yuen Law LLC with effect from 1 April 2020.
Michelle joined the firm as an Associate in May 2017, and prior to her promotion was a Senior Associate, focusing on Corporate Practice.
Servicing clients across a gamut of sectors, from tech to retail and F&B, she regularly advises clients on the setting up of a company in Singapore, employment matters, structuring of investments, and licensing requirements.
Michelle was called to the Singapore Bar in 2012. In her previous firm, she specialised in asset and wealth management matters, primarily advising on a wide range of matters relating to the establishment of funds as well as licensing and regulatory compliance matters.
She is now further establishing a forte in payment services, helping clients in the fintech, automation and digital space navigate the relatively new regulations and ensuring continuous compliance.
Her approach towards resolving clients' problems is one of efficiency and efficacy. Clients appreciate her commercially-minded legal advice, as well as her ability to listen keenly and discern their needs before quickly framing a solution, and her drive to close the deal as quickly as possible.
Michelle has proven her gumption when acting for start-ups and SMEs – a strong focus for this firm – and has been a reassuring presence on her clients' teams. Perceptive to client needs, she has also shown herself empathetic in extensively addressing their queries. She prides herself in forward thinking on their behalf, to dot the i's and cross the t's for present and future scenarios. In her words, it's about "ensuring the client is always aware that I am on their team".
"Michelle is a rising star who is technically proficient and industrious. Her business acumen is highly sought after in our industry. While affable, she is fiercely protective of clients' interests. She is the embodiment of the culture and values we hold in high esteem in Yuen Law," says the firm Managing Director, Samuel Yuen.