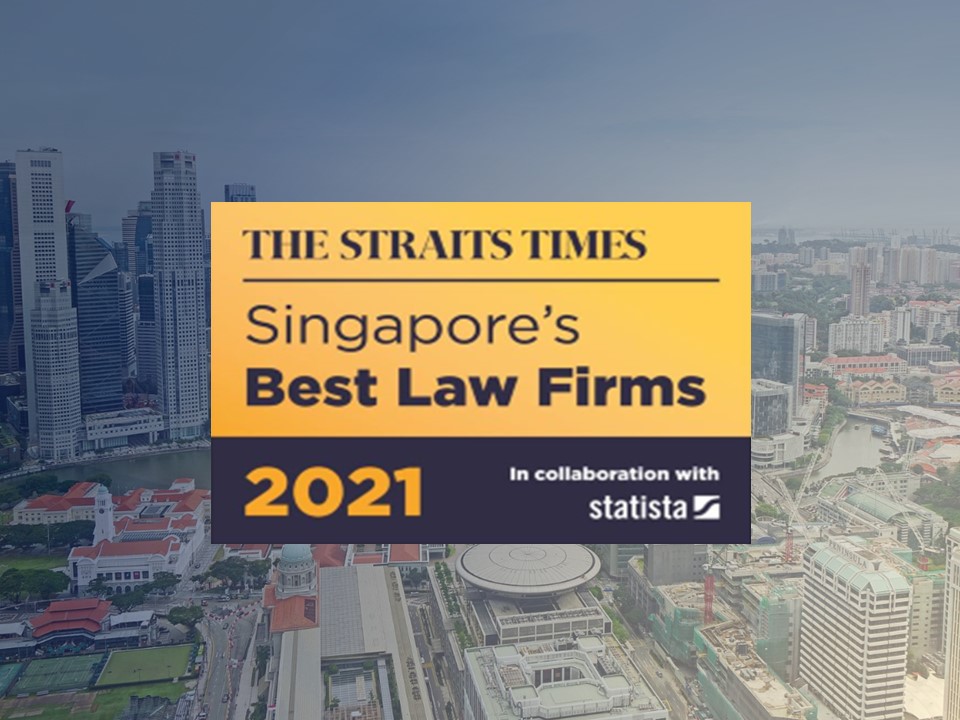 We are delighted to share that our firm has earned a spot in The Straits Times' inaugural "Singapore's Best Law Firms 2021" rankings.
This follows a three-month survey by international market researcher Statista, commissioned by the national newspaper. Thousands of clients and professionals in the legal field made over 10,000 recommendations, from which the top firms in 15 different legal categories were determined.
Yuen Law emerged among the most-recommended law firms in four categories:
Commercial Law
Family Law
Inheritance and Succession
Intellectual Property Law
"It is an honour to have earned our place in the 'Singapore's Best Law Firms 2021' rankings and to have been highly recommended by clients, peers and industry partners. This is testament to the team's commitment to consistently provide our clients with legal advice that is practical and comprehensive. We are immensely grateful for the recognition of our dedication to the craft and will continue to strive for excellence," said Michelle Chan, our associate director in the Corporate Practice Group.
"This award is significant to me and my team as it comes from people whom we have served and also from professionals whom we have worked with. I am truly most grateful to God for our clients, fellow legal practitioners and industry partners who recognise our efforts over the years. This award also serves as a great source of encouragement for us to serve our clients better, especially in these challenging times," said Lim Fung Peen, our director and the head of Private Wealth Practice.
Singapore's Best Law Firms 2021 was published in The Straits Times on 16 November 2020.
Last month, Yuen Law also ranked for the first time on the authoritative regional legal guide, asialaw Profiles 2021.
"Striving to give our clients the best legal advice and representation possible is meaningful work in itself, but I can't deny that our entrée into two prestigious industry rankings this year makes it extra rewarding," says our managing director Samuel Yuen, who helms the Corporate Practice Group.
"It's a big pat on the back for the Yuen Law family, and this win is thanks to everyone's hard work."
We'd like to say a huge thank you to all our clients and professional peers who voted for our firm!